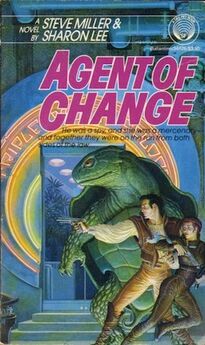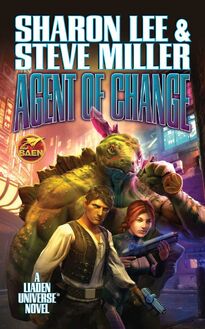 Agent of Change (copyright 1988, by Sharon Lee and Steve Miller)
First publication in the Liaden Universe, it begins the Agent of Change sequence, featuring Val Con yos'Phelium and Miri Robertson
Set directly before the events in Carpe Diem
Also published in The Agent Gambit a Baen Book Omni-Trade Edition, with Carpe Diem
Available in audiobook format, narrated by Andy Caploe
Once a brilliant First-in Scout, Val Con yos'Phelium was "recruited" by the mysterious Liaden Department of Interior and brainwashed into an Agent of Change—a ruthless covert operative who kills without remorse.
Fleeing the scene of his latest murderous mission, he finds himself saving the life of ex-mercenary Miri Robertson, a tough Terran on the run from a team of interplanetary assassins. Thrown together by circumstances, Val Con and Miri struggle to elude their enemies and stay alive without slaying each other—or surrendering to the unexpected passion that flares between them.
Main Characters
Edit
Secondary Characters
Edit